Indian weddings have always been about opulence and larger than life character. Having said this when it comes to fashion, the contemporary young Indian girls are opting for tasteful elegance over overstated boldness. And going by the latest trends, fashion minimalism is here to stay for a long haul. Modern Indian brides are more inclined towards subtleness coupled with luxury and lavishness.
Two major causes of concerns for every bride to be are the makeup and hair. When it boils down to the wedding hairstyles, there are so may styling options available that they often lead to confusion. To answer all the questions regarding bridal hairstyles, we have compiled our top picks of Indian wedding hairstyles:
Criss-Cross Flower Accented Bun Bridal Hairstyle
Keeping your hair tightly tucked this neat bun style is simple, sleek and best suited for your wedding day. You can never go wrong with this style. This simple yet stylish bun style compliments your ghungat making you and your hair shine.
Ringlet Bun-bridal hairstyle For Wedding
This beautiful, full and tight bun style is one of the most underrated Indian wedding hairstyles. The side parted ringlet bun can be accessorized to give it a more royal look.
Low Side Bun with Puffy Crown and Side Sweep Hair Style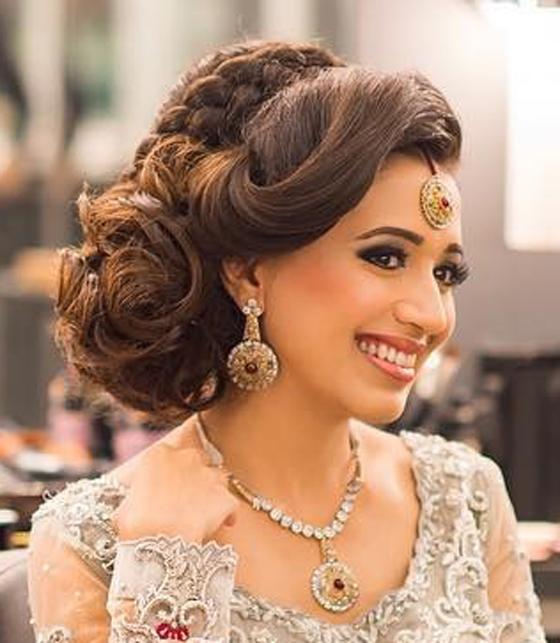 As the name suggests this puffy low side bun not only gives your hair more volume but also looks utterly gorgeous. Add this to your list of bridal hairstyles for long hair and you won't be disappointed.
Bumped up Curls- Bridal Hair Style For Marriage
This amazing bridal hairstyle will take your style quotient to the next level. This plain bum it style will transform the most basic of Indian wedding hairstyles.
Twisted Side Bun Wedding Hair Style For Long Hair
This is your go to hairstyle in case you are short on time. This simple and classy style will direct all the attention to your fabulous bridal dress.
Curling Tedrils Updo - Wedding Hair Style for Short Hair
If you prefer something dramatic than there are no better wedding hairstyles for long hair. With beautiful tendrils flowing down your neck will accentuate your entire bridal look.
Bouquet Bun - Perfect Indian Bridal Hair Extension
Even today Gajra is an integral part of most Indian wedding hairstyles. This bouquet bun is a modish take on the traditional gajra style. This wedding season completes your bridal look with a string of jasmine adorning the hair.
With an onset of wedding season this year and there is no doubt that all the Indian brides to be are geared up for the preparations of the special day. So If you also want to adapt one of these hair styles, Don't forget to give a look to the Hair Extensions used for Indian Bridal Hairstyles for Wedding. For the best hair care and hair styling techniques, contact us today for a quick consultation: hairwits@gmail.com , call us at: +91 9999 205 960
Related Links:
Know Your Hair Types And Hair Extensions Best Suited To Them
Why Bride Love Human Hair Extension?
Celebs Who Wear Hair Extensions
11 cool hairstyles to try with your Hair Extension